The Miracle of Memory Foam
Memory foam has been wowing consumers since they were first able to purchase it in the early 1990s, but most people don't know that their mattress actually got its start amongst the stars.
In the late 1960s, NASA noticed that their astronauts were experiencing discomfort during the incredibly forceful lift-off process, and began experimenting with different materials that would cushion and support their crew.

NASA chemists got together and came up with the world's first visco-elastic polyurethane foam. This material proved to be the perfect shock absorber, as it conformed to the astronauts' shapes, was able to regulate temperature, and evenly distributed body weight.

Once NASA had perfected their memory foam seats and no longer needed the technology, they sold it to one of Europe's largest manufacturers of foam. The memory foam mattress came into being in the 1980s, and was tested and tweaked until the company felt that it was ready for the public in the early 1990s.
Memory foam mattresses quickly became a big hit, as people noticed that the same benefits that helped astronauts to launch comfortably into space also worked for them while they slept. Sleepers reported less back pain, overheating, and being disturbed by their partner during the night.

Those that made the switch from a traditional innerspring mattress noticed that sleeping on memory foam offered them several key benefits.
Better Body Fit

Memory foam responds to heat and pressure, conforms to body shape, and then returns to its original form once a sleeper gets up from bed. This allows for a true body-conforming fit when sleeping, and the peak level of comfort and support.

Temperature Regulation

The visco-elastic polyurethane that makes up memory foam mattresses allows for even distribution of weight and assists in a cool night's rest.

Relief from Pain

Memory foam bedding also removes the pain of pressure points that can develop while sleeping through the even distribution of body weight and alignment of the spine, which allows for a comfortable night, no matter the sleeping position.

Fewer Allergy Attacks

Unlike a typical innerspring mattress, which can absorb up to 10 million dust mites and other allergens, a memory foam mattress is much denser, which helps to prevent the accumulation of allergens.

Less Sleep Disturbance

The dense and body-conforming material of a memory foam mattress also helps to prevent disturbances caused by a sleep partner moving around during the night, as well as reducing the amount of tossing and turning that a typical sleeper might experience.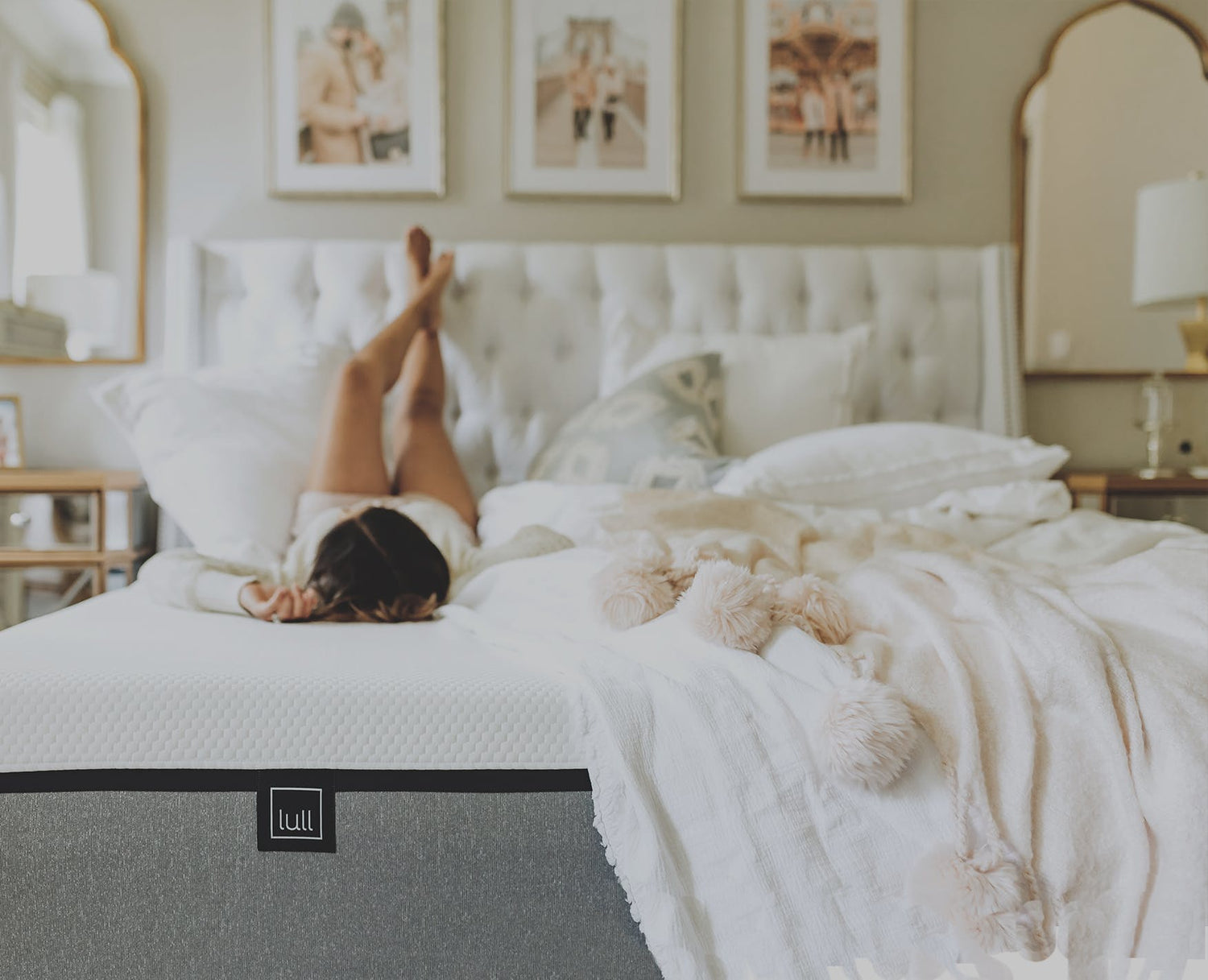 Lull's Three Layer Memory Foam Mattress
People that made the switch from a traditional innerspring mattress to memory foam also reported that while it did take a few days for their new mattress to expand to its full level of support and comfort, they were surprised at how much more the memory foam mattress catered to their sleeping needs than their old mattress did, especially when it came to cradling them and distributing their weight evenly throughout the night. In fact, memory foam was chosen over spring mattresses 8:1 in almost every consumer survey since 2009.
Memory foam mattresses also tend to hold their shape for much longer, with very minimal sagging reported after up to ten years of use, while sleep experts recommend replacing a spring mattress at least every eight years in order to avoid sags and dips in the mattress surface.
Not only have memory foam mattresses improved sleep quality and relieved back pain in consumers since their introduction to the market, they have also been the key to a new internet phenomenon – online mattress shopping.

No longer do consumers have to suffer through the stressful experience of shopping for a new mattress in big-box retail stores. Instead, premium gel foam mattresses are now available with the click of a mouse, thanks to companies like Lull.

Offering a stress-free, exclusively online mattress shopping experience, Lull provides luxury memory foam mattresses at reasonable rates that are shipped directly to consumers' doors, and was started when the company's CEO grew sick and tired of shopping for a new mattress.

The team at Lull hates the hassle that comes with finding a new bed that offers quality sleep but doesn't break the bank, and chose to offer an alternative solution by creating one perfect mattress and selling it in every available size to their customers.

They consulted many mattress experts on the search for a mattress with a "just right feel," and after creating a prototype of what they felt was just the ticket, they performed a myriad of blind comfort and quality tests to make sure that the Original Lull Mattress lead the memory foam mattress pack.
Made from the highest quality materials available, the Original Lull Mattress is made up of a unique three-layer design that includes a 7" polyurethane foam foundation, a 1.5" foam blend transition layer, and a 1.5" gel-infused memory foam top layer.

The support layer is the foundation of the Original Lull Mattress, and offers durability and strength to sleepers, as well as providing added spinal support, and preventing any sagging during the life of the mattress.

Created to absorb movement and prevent bouncing during sleep, the transitional layer in the middle of the Original Lull Mattress offers support that keeps partners from disturbing one another during the night, as well as making sure that the mattress doesn't have a sinking sensation, which makes for a smooth transition when getting in and out of bed.

The comforting and cooling top layer of the Original Lull Mattress provides a soft, cradling effect for sleepers, while also preventing pressure points from developing and leading to back and joint pain. Gel that has been infused into the memory foam of the top layer also absorbs and distributes body heat, providing a comfortable night's sleep.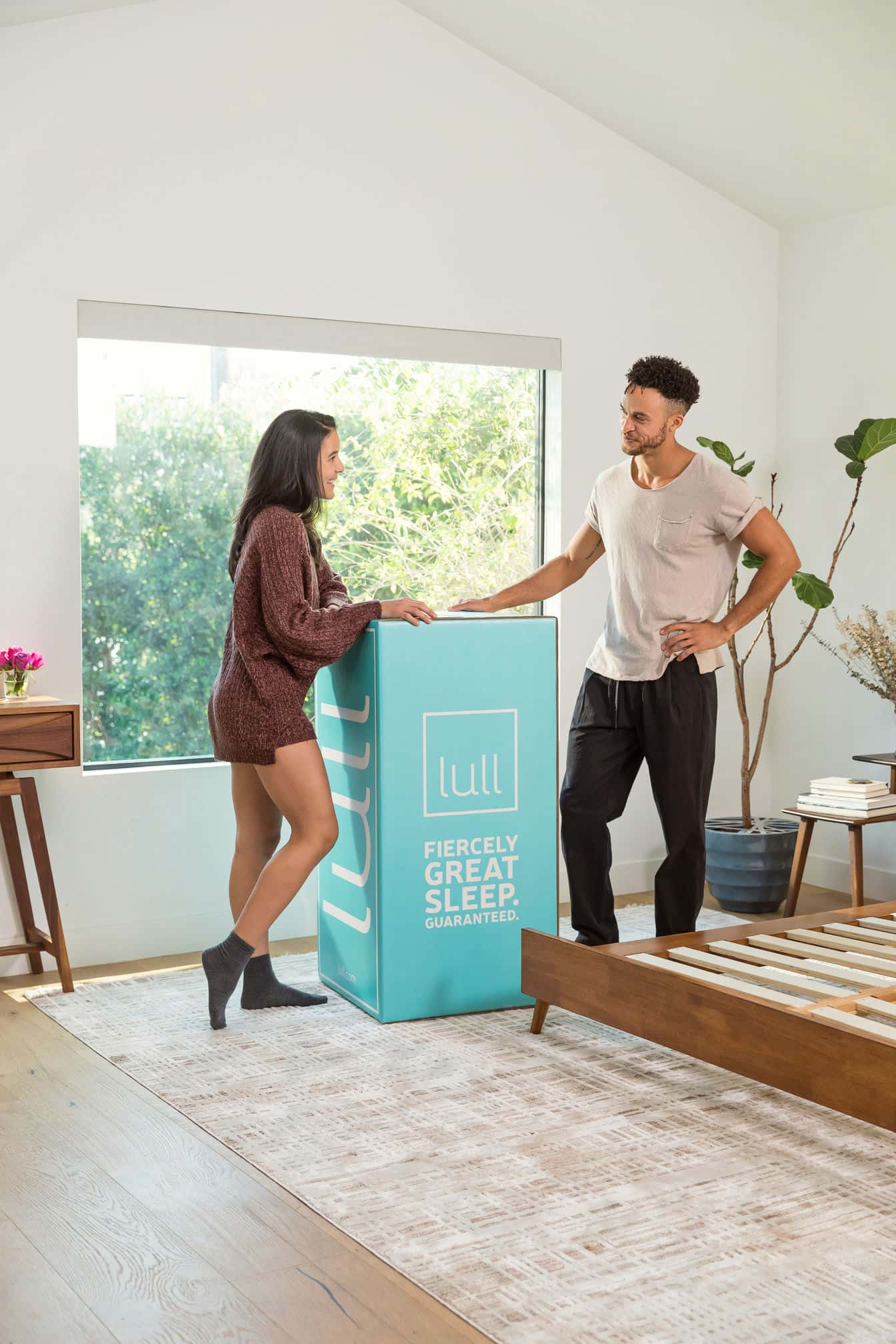 Topping it all off, the soft and breathable cover of the Original Lull Mattress is also crafted in the US, and provides an additional source of even body heat distribution while sleeping, and is a durable and hand washable to keep the mattress fresh and supportive for many years to come.

The Original Lull Mattress was crafted specifically to provide the highest quality of sleep to everyone, no matter what their preferred sleeping position might be. For back sleepers, the Original Lull Mattress offers the perfect level of support and strength, while also providing the softer, more comforting feel that side sleepers crave. And for those that like to sleep on their stomachs, the Original Lull Mattress offers the ideal middle of the road mixture of comfort and support.

Thanks to the innovation of NASA chemists back in the 1960s, memory foam has come to revolutionize the sleeping experience, and Lull has helped it to reach the peak mixture of comfort, quality, and convenience that any sleeper desires and deserves.